Categories
Site Information
Links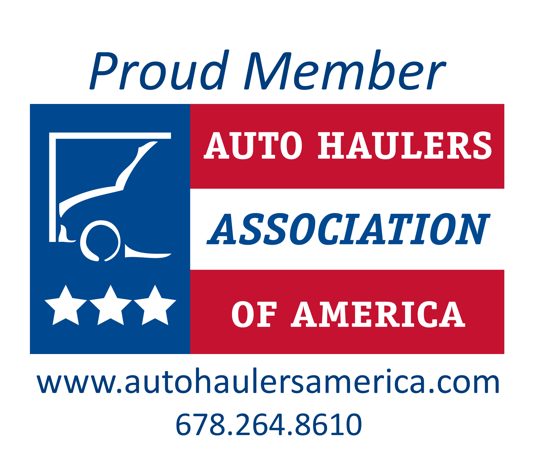 Welcome to Autohauler Supply
We love car haulers!TM
Call toll-free: 866-855-HAUL (4285)
Direct: 503-786-6057
Customer Service Hours 8 AM-8 PM Eastern, Monday through Friday
(Canadian customers - please call to order!)
LABOR DAY SALE, ALL LOADING RAMPS 10% OFF THROUGH SEPTEMBER 1!
Ramp manufacturer just extended special pricing for all loading ramps ordered through September 1, so we figured we'd just pass the savings along to you. Hope everyone has a safe, happy holiday weekend!
August 18th, 2014
Why do we have so many wheel straps? Click here for an explanation.
August 12th, 2014
The Western swivel J ratchet wheel straps are here!
Got a big load of some really nice swivel J ratchet wheel straps that just arrived in Portland, OR. If you live in the western US, check your email for some special discounts. (I don't want our competitors to get depressed when they realize how much better of a deal we have than they do.)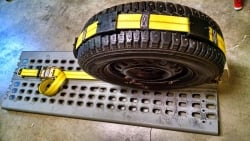 A wheel strap deal too low to advertise openly!
Also, wanted to let you know that we've got our new ambidextrous height stick in. Yes, it's got the double head, so whether your a Righty or a Southpaw, you'll be able to operate the stick and read the laser-engraved numbers with ease! Check it outAH-REDSTICK-V2
July 15, 2014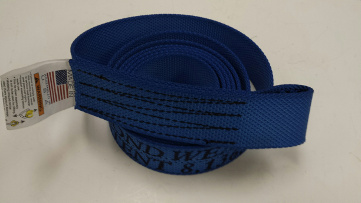 Introducing.... The Naked Strap! (Limited Time Offer!)
This is really popular with our fleets that run strap trucks. Lets you recycle your rubber tread grabs, swivel J hooks etc. 12 footer: $5.64 14 footer: $7.04 Made with new patented Diamond Weave webbing... resists nicking and abrasion! Please allow 3-4 day production time, as the shop is REALLY busy. This strap is only for use with double J swivel hooks... the bolt loop is not big enough to be used as a lasso strap. It's meant to be used with hardware from existing Cottrell straps.
June 23, 2014
Here is an interesting item we sold to a customer who was looking to create a new type of wheel strap tie-down secured to the rub rail on his trailer. The yellow strap has a loop through which a 2 inch strap can pass through. You could also unbolt a ratchet handle and bolt that loop right to the end of your ratchet if you wanted to!
May 30, 2014
A lot of new stuff going on lately-- seems like every time I turn around, I'm creating a new part number in the system for a custom strap. Every once in a while, we get a customer who starts using one of our existing straps in a new and interesting way. Case in point, the new RV and Trailer Wheel Strap that we just shipped to the Elkhart, IN warehouse. We discovered some folks hauling trailers were buying a custom version of one of our tow dolly straps and using it as a dual ratchet tie-down for their trailer-hauling business. Bette Lakeyoungberg and her son Brian were the folks who brought our attention to this. Anyway, to make a long story short (as my Uncle Charlie used to say), we went to the fabricator and took their intended use and came up with a new design that should work really well for trailer and RV transporters. Read about the product here, or click on the images below for some pics Bette took of her prototype.
This is what I like best about this business-- the collaboration between us and the customers and the engineers and fabricators to come up with new tie-down solutions. I think this is how it's supposed to work!
--Steve
P.S. We've got some of these straps in stock in Elkhart now.
Click the pic to see larger image.
Featured Products
SKU:

AH-ORANGE-DJv2-10-Rx10

SKU:

AH-ORANGE-SJv2-10-Rx8

SKU:

AH-ORANGE-SJv3-12x15
Save Time & Money!
Track your order online.Look up your old orders.
Compare prices for similar items made by different manufacturers!
Shipping Quotes! (now you can get them yourself!)
Get UPS tracking numbers emailed to you automatically!

Shipping Quotes
Want to know EXACTLY how much shipping will cost? It's easy!
Click "Add to Cart" next to the item you're interested in purchasing. Update item quantities if necessary.
When the order looks complete, enter your zip code and click the "Calculate Shipping" button.
(If you have logged in, you can instead just click on the "To Checkout" button to get shipping calculated.)
We don't charge handling fees, and we pass our shipping discount on to you. We don't play games with increasing the price of the product or lowering quality so we can offer something for "free". We believe in total value: the best product we can make combined with the best service and most efficient shipping method. (i.e., pulled from a warehouse closer to you.)
Payment Methods
NEW! You can now use PayPal Express Checkout to check out instead of using our regular checkout. Auto-populates your billing and shipping address and speeds up the payment process. Pay using your PayPal account or PayPal Credit!
We accept Visa, MasterCard, Discover Card and American Express or you can pay using your PayPal account. Please note that if you fund a PayPal payment with a transfer from your bank account, your order will be held until funds have cleared. PayPal now also offers PayPal Credit, see banner ad above!

Security
We take security extremely seriously. Our transaction page features 128 bit encryption. However, if you want to, you can call us up and order over the phone! Credit card not working? Need more information? Please call us. 866-855-4285 Toll-Free.