Categories
Site Information
Links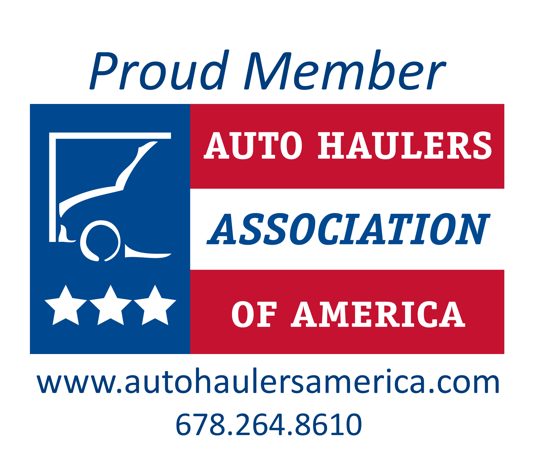 Welcome to Autohauler Supply
We love car haulers!TM
Call toll-free: 866-855-HAUL (4285)
Direct: 503-786-6057
Customer Service Hours 8 AM-8 PM Eastern, Monday through Friday
(Canadian customers - please call to order!)
December 8th, 2013
This holiday season, don't forget to buy your car hauling business some nice new presents. To make sure your money goes as far as possible, we've got some great deals for you. Please note, sale prices are good while supplies last. Some of the items we put on sale last week sold out in the first day.
12/8/13 12:57PM RAMPS-UPDATE: Just got some really good pricing incentives from the aluminum ramp manufacturer. Check it out: a pair of 8,500 lb aluminum loading ramps for $448.16 INCLUDING SHIPPING. Click here for details. The money you spend on aluminum ramps, you'll more than make up for in reduced chiropractor bills! More ramps to view in our ramp category.

8ft loading ramps (Pair of 94" x15" x3.25") - Shipping Included
11/24/2012 10:47pm
great product, great company to business with
Reviewer: John

10/08/2012 07:46am
Sweet!!! What a relief to lift and set one of these. Worth every cent!! Will never understand what took me so long to order!
Reviewer: Richard

09/17/2009 10:54pm
Awesome ramp for the money and both ramps together weigh less than one steel ramp that came with the trailer !!!!!
---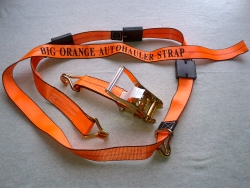 AH-ORANGE-DJ-10-Rx8 Big Orange Ratchet Wheel Straps with wire hooks... only $14.95 each! (8 per box).
This is the ORIGINAL Big Orange strap-- 10 feet long, with three rubber tread grabs to go over the tire and short-wide ratchet.
---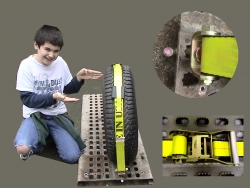 RD-R5110SSJH/RBx8 Yellow Ratchet Wheel Straps with swivel J hooks ... only $19.61 each! (8 per box)
This ratchet wheel strap assembly features swivel J hooks and an extra heavy duty ratchet handle. You won't be disappointed. And if we sell enough of these straps, maybe that kid in the picture will get an extra video game for Christmas!
---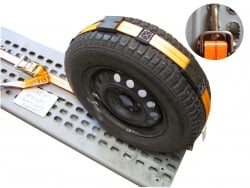 AH-ORANGE-SJv2-10-Rx8 Big Orange Ratchet Wheel Straps with swivel J hooks... only $19.95 each! (8 per box).
This is version 2 of our our famous Big Orange strap with swivel J hooks. Features smooth-operating ratchet handle that you'll love working with. If you don't, call up Steve on his cell phone and he'll make it right. 5O3-31O-O494.
---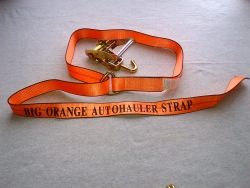 AH-ORANGE-LS-8-Rx6 Big Orange 8 ft Lasso Strap with steel ring and Ratchet Handle with bolt-on swivel J hook
$10.95 for the set! (6 per box).
That's right... you get a strap and a ratchet for $10.95, and not just any strap either... you get the heaviest weave strap we've ever sold, the Big Orange 18K material. If this strap isn't the best quality you've ever seen, call Steve up on his cell phone and he'll give you your money back. 5O3-31O-O494
But don't take my word for it, check out the reviews from other customers who have purchased these!
09/23/2013 10:33am
best strap and ratchet ever!!! great company too!!
07/11/2013 06:07pm
First off I want to thank you guys for all your help.
The Big Orange Lasso Strap and Ratchet set is by far the best I have ever used for hauling cars and trucks !!! Don't think twice about getting a few sets , you wont be disappointed.
---
Save Time & Money!
Track your order online.Look up your old orders.
Compare prices for similar items made by different manufacturers!
Shipping Quotes! (now you can get them yourself!)
Get UPS tracking numbers emailed to you automatically!

Shipping Quotes
Want to know EXACTLY how much shipping will cost? It's easy!
Click "Add to Cart" next to the item you're interested in purchasing. Update item quantities if necessary.
When the order looks complete, enter your zip code and click the "Calculate Shipping" button.
(If you have logged in, you can instead just click on the "To Checkout" button to get shipping calculated.)
We don't charge handling fees, and we pass our shipping discount on to you. We don't play games with increasing the price of the product or lowering quality so we can offer something for "free". We believe in total value: the best product we can make combined with the best service and most efficient shipping method. (i.e., pulled from a warehouse closer to you.)
Payment Methods
NEW! You can now use PayPal Express Checkout to check out instead of using our regular checkout. Auto-populates your billing and shipping address and speeds up the payment process. Pay with PayPal or Bill Me Later!
We accept Visa, MasterCard and Discover Card. If you want to pay using American Express, please choose PayPal as a payment method, then select "I don't have a PayPal account" from there, you can pay for your order using credit card. Please note that if you fund a PayPal payment with a transfer from your bank account, your order will be held until funds have cleared. PayPal now also offers Bill Me Later, see banner ad above!

Security
We take security extremely seriously. Our transaction page features 128 bit encryption. However, if you want to, you can call us up and order over the phone! Credit card not working? Need more information? Please call us. 866-855-4285 Toll-Free.


Featured Products