Why does Autohauler Supply have so many different kinds of wheel straps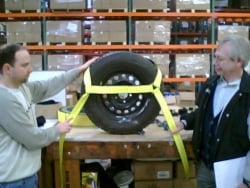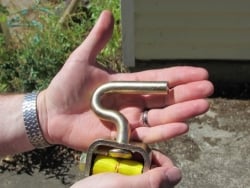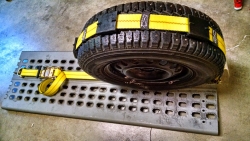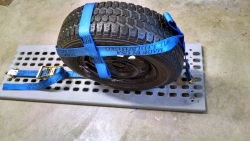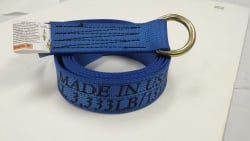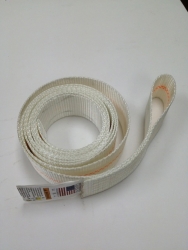 Some people have asked us, "Why do you guys have so many different types of ratchet wheel straps?"
A good question! With all of the different variations, it can get a little bit confusing. To answer that question, we need to go back in time to 2004 when we first started selling wheel straps to car haulers.
Back then, believe it or not, we had only one wheel strap that we sold. It was manufactured for us by the Vulcan tie-down company in Detroit, MI. In 2004, we had three products we sold: cluster chain (also manufactured by Vulcan), the one tie-down strap, and graphite paint from Asbury Graphite. Our "website" was just a single web page.
One day, early in the business, I had a customer who told me he wanted straps, but he didn't want the strap I sold that had the three rubber tread blocks on the top. He wanted something he called a lasso strap. (A tow truck guy would call these "wheel lift straps") He told me he wanted an 8 ft strap with a steel ring in the end of it, and a ratchet handle to tie into his rub rail.
I called my old rep at the Vulcan company and asked if they had such a thing. Indeed they did. So now I had two different straps to sell. Some time after this, someone called up and said they didn't want to buy an over-the-tread tire strap with the double J wire hooks-- they wanted one with single swivel J hooks. Phone calls and emails went back and forth, and then I had three products in the strap category. Then someone wanted a wheel strap that could be tightened with a chain. Then someone wanted a wheel strap that was extra long. Then someone wanted something in a different color. And so on and so forth. Hundreds of phone calls every week for about ten years... lots and lots of conversations with car haulers from around the world, many of whom had a trailer set up that was just slightly different... and who needed something changed slightly.
Listening to all these car haulers really helped us in the long run I think. Whenever we heard a few guys wishing they could have some kind of improvement, we realized: "Hey, this is the market asking for a solution. Maybe we're the ones who should be making this happen." The way we looked at it, that was kind of our job. The manufacturers can make just about anything, but they don't really know WHAT exactly to make, unless you tell them. Customers know what they want, but their trouble is finding someone who can get it for them.
Over the years, we added new manufacturers, and every time we did that, our product assortment multiplied. Some manufacturers had better prices than others, so we were able to get the cost down for our customers and still make the same profit. We eventually took all these feedback from customers and designed some of our own product lines: The Big Orange wheel straps came out of this effort, as did the LifeSaver height stick and the Big Red Heightstick.
Sometimes, we'd find one manufacturer who had a better ratchet handle, and we'd get all of our guys to switch over to it, so we could improve all the different lines of wheel straps.
Anyway, long story short-- we're probably showing you way more wheel straps than you want to look at, and we apologize in advance if it is confusing. We try to group everything together in a way that makes sense, but it's hard to keep it organized. If you ever have any questions about what strap will fit your trailer, give us a call and we can ask you a few questions to figure out what is going to work for you. And if you have some ideas or feedback for us, we'd like to hear it. Sometimes we'll even name a strap after the car hauler who asked for something different!