Product Details
Independent Auto Transporters Alliance Annual Membership
Grow your auto transport business by joining the Independent Auto Transporters Alliance! Discounts on tires, straps, phone service and more!
Full Description
Why should you join the Independent Auto Transporters Alliance?
First of all, it serves as definitive proof that you are a member of The Good Guy Club... the guys who don't cut rate just for "backhaul". The guys who know how much it costs them to turn a mile. The guys who are in it for the long haul. The guys who don't cut corners. The guys who deliver damage-free, rain or shine. The guys who help each other out on the road. The guys who never, ever, ever, ever stop learning. The guys who have chosen this as a career, not a side-hustle. The guys who want to grow their business, but not at the expense of quality (or personal health!)
And second of all, the membership pays for itself.
How does it pay for itself? The same way your Sam's Club or Costco membership card pays for itself.
IATA has negotiated Major Account Pricing on a number of products and services. With the discounts from Continental Tires, you'll pay for your membership if you buy only four tires a year.
Save: $125 or more on Continental Steer Tires
Save: $110 or more on Continental Drive Tires
Save: $73 or more on Continental Trailer Tires
But you'll save on more than just tires...
As a supporter of IATA, Autohauler Supply offers:
10% off Big Orange straps
10% off Diamond Weave straps
10% off Tie-Down bars
10% off 15' Big Red Height Stick
10% off Slip Plate graphite
There are a lot more discounts available to IATA members than these, but these alone will pay for the membership. If you're interested in ways to grow your independent auto transport business, this is a great group of people to hang out with. If you want to help change the industry bit by bit so it makes a little more sense, and solve real problems, then this would be a great organization to join in and team up with.
Here are just a few more, in case the tire deal and Autohauler Supply deals weren't enough...
With an IATA membership card, you'll get up to 22% business discount on Verizon and AT&T.

$1,000 off a new Peterbil

t (Larson Group --WorldWide Equipment)
Discounts on trailers purchased through WorldWide Equipment?
10% off Fleet Compliance Solutions
(But wait, there's more...)
You also get business discounts for
Sherwin Williams, Office Depot, Unifirst Uniforms, Airgas, Staples, ADP Payroll Processing, Vantiv Credit Card Processing, Universal Fleet Fuel Services, RingCentral, Elavon Credit Card Processing, GTS Fleet Tracking, and much, much more.
But more than just the discounts...It's kind of like school... you get out what you put in.
When Ziggy at Autotech first approached me about giving discounts to IATA members, I was a little skeptical. Our whole pricing structure is based on "every day good deals"... I hadn't puffed up my selling price to some artificially high price so I could later on advertise a fake "sale". So, I didn't feel like I had a lot of wiggle room with respect to discounts. But when Ziggy told me about the long-term vision of the organization, I thought, "Why not? My customers SHOULD belong to an organization that will try to help people follow industry best-practices." I liked the idea of my customers banding together to fight against bad brokers that don't pay their bills, or maybe even in the future lobbying to fight against bad legislation and regulations?
So how does it work?
Well, you can buy your membership through Autohauler Supply OR go to IATA and sign up on their website. Either way, you pay the same annual fee for your Company: $399 per year
You'll get your card(s) mailed to you, then just use your card when placing an order for tires, wheel straps, or a brand new Peterbilt.
The sooner you get your card, the sooner you start saving money!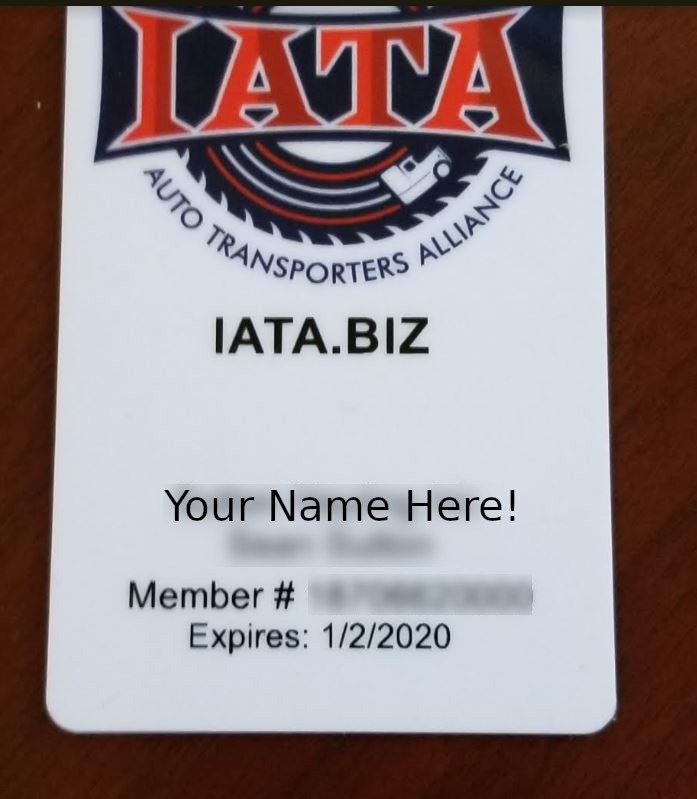 Reviews
Independent Auto Transporters Alliance Annual Membership
SKU: I-IATA
Add Your Review
Currently there are no reviews for this product. Share your opinion with others, be the first to write a review.
Add Your Review