Wheel Straps Disambiguation Page: For more info, always click on picture or link
Wheel Straps Disambiguation Page: For more info, always click on picture or link
One of the funny things about working at Autohauler Supply is that we have several wildly different types of auto tie-down systems that are all called "wheel straps" by the people that use them. I shall attempt to highlight the chief differences among them, and provide you with an easy way to find the wheel strap that is appropriate to the kind of trailer you are running.
Wedge Trailers/ 3 Car Click here to see our Lasso Strap wheel strap category!
(Got a 7 car 8 car 9 car or 10 car trailer? Skip ahead by clicking here)
Wedge trailers are in most cases single level trailers that haul three or four vehicles at a time. They are usually powered by heavy duty one ton pickup, but many companies will pull them with a traditional Class 8 tractor.
The majority of wedge trailers use a side mount wheel strap system in which the strap creates a lasso loop around the top of the tire and are tensioned by a ratchet handle on the side of the trailer or to the trailer's rub rail. I have heard some drivers refer to these wheel straps as "Y Straps" or "V Straps" because of their appearance.
The important thing to remember about lasso wheel straps is this: How are you going to attach your ratchet handle to the trailer?
Some trailer manufacturers like Kaufman and Appalachian do not put a rub rail or d-rings on the side of the trailer. If you are hooking into the angle iron on the side of the trailer, you really need to have a hook that bolts directly to the ratchet handle. If you use a ratchet handle that has a hook attached by a 10 inch fabric "tail", this can sometimes put you up too high on vehicles with smaller wheels. In other words, with a fabric tail on the ratchet, your handle is already up close to the height of the eye of the lasso strap, so you have no room to "suck down the strap".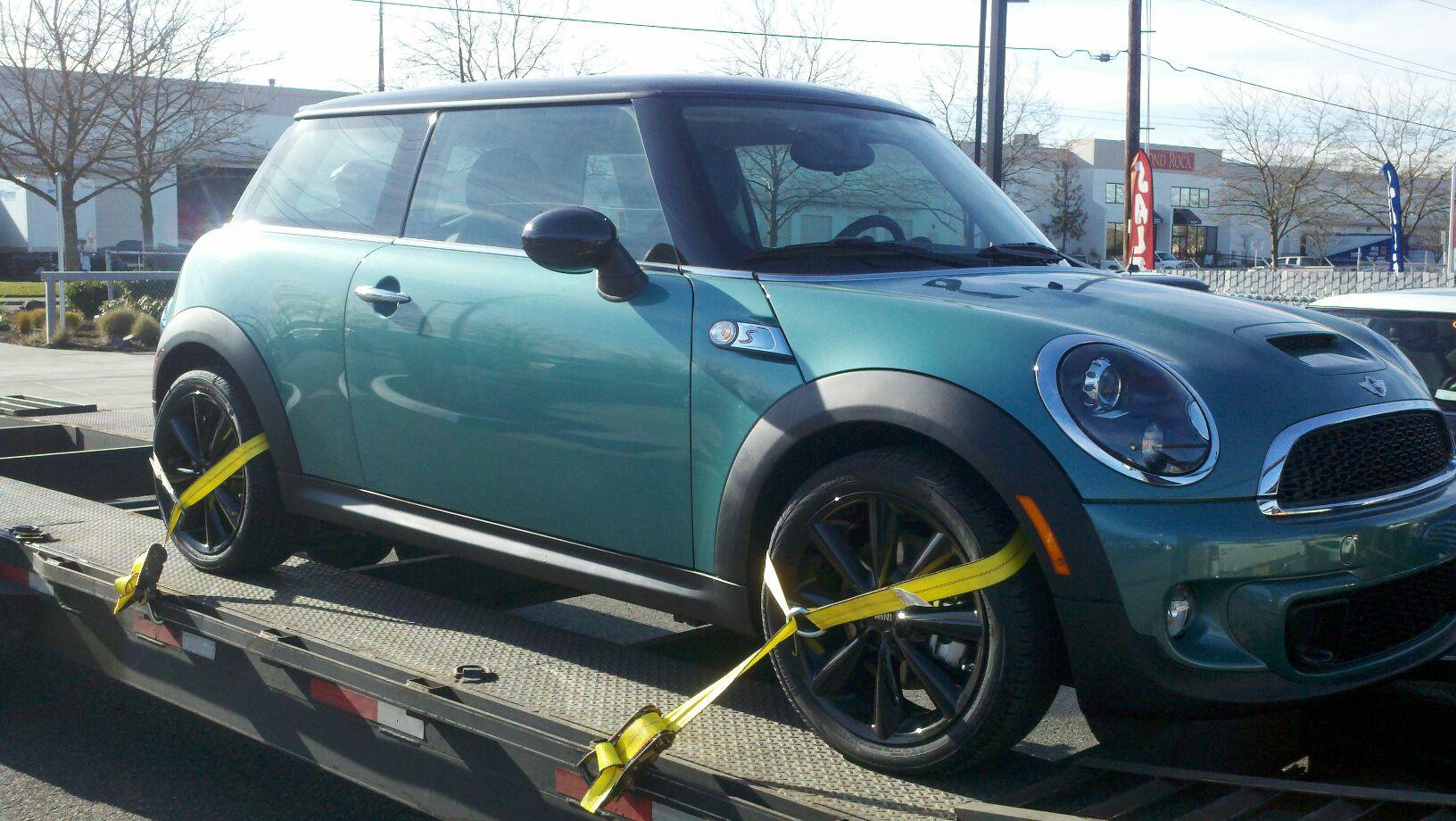 Photo by Aleksandr Guzenko, owner of Redline Express LLC in Gresham, Oregon
The picture above shows a mini cooper tied down onto a flatbed and secured using ratchet handles with bolt on finger hooks. In addition to the standard 8 ft lasso strap with steel ring, we also offer 10 ft and even longer for our customers hauling vehicles with oversize tires. In addition to the lasso strap with steel ring, we also offer a version with a "sewn eye" to our customers who want NO METAL coming near their customer's rims. Click here to see our Lasso Strap wheel strap category.
As you can see, there's no such thing as just a "Ratchet with a hook"! Click any of the pictures below for detailed information and larger images of each style car hauler ratchet handle.
What's the deal with the hooks on the ratchet handles? Why does it matter?
If you have a wedge trailer with a rub rail or d-rings spaced evenly along the outside edge, then you have more options and can use a ratchet handle that has a fabric "tail". Some of our customers even upgrade to a chain tail with grab hook. The advantage of having a ratchet handle with a cloth or chain tail, is that you can wrap it around the rub rail. If one of your vehicles ever throws a wheel strap, the driver on the highway behind you will appreciate not having a ratchet handle tumbling off your trailer in his direction! Don't worry, Kaufman owners. We've developed ratchet handle "Saver Straps" which are basically just little dog leashes you put on your ratchet handle and hook via safety snap hook into the expanded metal deck of those Kaufman car carriers.
Behold the Ratchet Handle Saver Strap... perfect for Kaufman Trailer owners!
Reviewer: TMB Transport
10/21/2011 10:21am

I recently purchased these ratchet savers and would recommend them to other car haulers.
To Sleeve or not To Sleeve?
Another important thing to keep in mind with wedge trailers running lasso straps: there is a lot of stuff behind those wheels. It is very easy to nick or cut wheel straps on some cars. We recommend you buy protective sleeves and position them on the in-board side of the wheel where your strap may come into contact with structures behind the wheel.
Reviewer: Rob Cooley
03/15/2012 06:27pm

they go on easy, and really save the straps. I believe these will extend the life of my lasso straps by a factor of ten.
Think of the protective sleeve as an insurance policy against pre-maturely sliced up straps!
Crazy Over-Engineered Straps
Double Ratchet Side Mount Tire Strap

SKU#: PCC-TN-AHS-ADJ-DR

Our Price: $24.95 $21.95
Double ratchet car tie-down strap features adjustable tire basket. Allows you to secure car to trailer with two ratchets per tire.
Ships from OR

Dual Ratchet Sidemount Strap Fits 13" up to 35" Tires (option for 35-41" and 41"-48")

SKU#: SP-EBSIDEDUAL

Our Price: $59.95 $54.90
DOUBLE RATCHETS PER TIRE! Basket strap using double rectangle cinch system, 2 short ratchet handles with options on hooks, 12,000 lb material, all hardware 10,000 lbs ultimate strength. 3333 LBS safe working load limit, safety factor of 3. Made in USA.
Now with Cordura sleeve option! (call in and order 12 or more straps, and we'll include the sleeves!)
Ships from PA
G A T O R
S T R A P S
But the most over-engineered lasso-style wheel strap known in the history of car hauling has to be the Gator strap. Check it out: a 2 inch wide strap woven with the thickest, strongest fabric. Strap material that the manufacturer has engineered to 19,600 lb breaking strength. (Please don't do anything too crazy with it, as our strongest hardware we can put with it is only 10-11,000 lbs., so it does NOT have a higher working load limit. HOWEVER, it is so thick and so strong, our customers who haul heavy trucks, vans, etc. have started asking for it by name.
You can purchase axle straps, cargo straps and lasso straps made out of GATOR material, plus ratchet handles that use GATOR to attach the hook to the bolt on the end of the ratchet handle.
Having said all that....
OK... we've talked about a lot of different types of ratchet handles and lasso straps typically used by the guys running 3 and 4 car wedge haulers. Just because you are running a wedge trailer doesn't mean you have to run lasso straps as outlined above. If you have a Take 3 trailer you can use the "Over-Tire" type wheel straps that the guys running Cottrell C10, C11 and C12 trailers are running.
Over the Tire Wheel Straps: the Variables to Consider
Will the hooks on the wheel strap assembly fit your trailer? Our EZ fit wire hooks and our swivel J hooks on our wheel straps will fit the following trailer models, provided they have a 1 inch hole pattern or bigger. Careful though, if you have a really, really old trailer, you'd better measure the narrowest diameter of the hole. You want a minimum ¾ inch hole to use the swivel J hooks and a minimum 1 inch hole in your deck
Cottrell
Boydstun
Delavan
The EZ fit wire hook will also fit most JM Trailers (small west coast trailer manufacturer that went out of business during The Great Recession.) Be careful though-- if your trailer is older, and has been re-furbed... it may have a deck plate that we are not familiar with. When in doubt, take out your tape measure and tell us what you're dealing with. If you email a pic showing measurement, we can solve a problem before it becomes a problem that requires boxes of wheel straps to get shipped back and forth across the country.
If you have a Miller, Sun Valley, Orange Blossom or Sun Country double-check your hole size. You may be able to use our special strap that has the longer hook style.


This kind of hole in your deck plate means MEASURE FIRST!
Length of Strap
Typically, these feature a 9 or 10 foot strap with three rubber tread grabs. Most popular size wheel strap is 9 footers, but if you're doing really big SUVs like Land Rovers, etc., you might want to go to a 10 footer. If you're doing mostly passenger vehicles, then the 10 footer is going to give you that much more extra strap to wrap around the ratchet handle with each wheel you have to tie-down.
(WARNING:DO NOT buy 8 foot ratchet wheel straps unless you know that you're ONLY going to be transporting the vehicles with the tires this smaller, older version of wheel strap fits.)
Hook Style
A hook is sewn to the end of the strap. Then you've got your three rubber tread grabs separating by blocking spacers of smaller strap to keep them from sliding around too much. Behind these, you have the idler hooks that floats freely. This goes on the other side of the tire. Both hooks go down into the deck plate of your trailer. So your main decision to make here is:
Swivel J Hook or Double J Wire Hook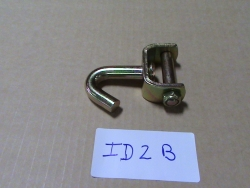 Swivel J hooks cost us more... so naturally, they will cost you more to purchase. Swivel J hooks feature either a 5/8" or 9/16" swivel J hook affixed to a bracket. These brackets feature high grade bolts. One advantage with these hooks is you can order replacement straps with all the tread grabs and stuff on them, and they come with a bolt loop in them, so you can bolt your good old swivel J hooks into the new straps for minimal cost.
Some drivers have told us they prefer the swivel J hooks for situations on the trailer where one hole may be covered up, or have something underneath it so that they can't fit the hook in properly. The swivel hook allows them to anchor the wheel strap to the deck of the car hauler using an adjacent hole... without putting a twist in the strap.
Other drivers have told us they like the double J wire hooks because they are less bulky, and have less metal on them to carry through tight spots where damage to a paint job is a real risk.
Ultimately, the question of what hook you prefer comes down to your personal situation: what kind of trailer you're running, and more simply... what do you prefer to work with. These straps are tools you're going to use every day, so for heaven's sake, get wheel straps that will work for you... and that you're not going to curse every day.
Tread Grabs & Stopper Block Patterns
We generally recommend you buy "Over the Tire" wheel straps with three rubber tread grabs. That's how we spec most of ours. Beware of companies that only want to sell you a couple per wheel. Also, make sure the tread grabs you're getting are nice big rubber ones-- not chintzy plastic. We've rejected a few vendors, because they tried to convince us our customers wouldn't mind their crappy tread grabs. We beg to differ. The tread grab keeps that strap positioned properly on the tire and helps to equalize the tension on both sides of the tire. That is very, very important in a wheel strap... not really a place you want to cut corners.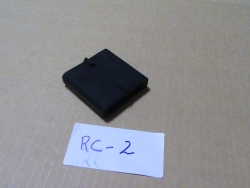 Our rubber tread grabs has nipples on both sides. We think that's nicer.
We also recommend that you buy our wheel straps that have stopper block patterns between the rubber tread grabs to prevent them from moving around too much. (Yes, we do sell some without these, but we've created these for people who asked for them. They are available but we don't promote them very vigorously.)
Think about it this way... when you are up on the top deck of your trailer and it is 20 below zero out with the wind chill, and your hands and feet are going numb, and you're trying to get hooks into a deck that has snow and ice on various parts of it... do you REALLY want to use both hands to fiddle with positioning the rubber tread grabs?
I didn't think so. Remember: safety is no accident.
And you should also be using a ladder. If you're not carrying a ladder with you, stop reading this and drive to Home Depot or Lowes right now and get yourself a ladder.
Ratchet Handles
Our AA line of wheel straps from PCC has the best ratchet handles on the market. No, I'm not bragging. I've spent ungodly amounts of time comparing ratchet handles. They are NOT identical. You'd be surprised. Well, actually-- you probably wouldn't be surprised if you bought ours, because they work just the way you want them to. The ratchet handles on the AA line are a little heavier duty, professional grade. If you treat them nice.. clean them up every once and a while and lube them up with some WD40 or teflon spray, they'll last you ga good long time. We use the short wide ratchet handle that is about 7 inches long. Not that big 10 incher. Less scratched paint jobs, we hope.
But don't take our word for it... Here are some reviews from the AA wheel strap page on our website:
Reviewer: Phillips Trucking
03/27/2012 07:32am

These straps and ratchets work great, and are very easy to use on my 53ft 7 car hauler. Very secure and stable...
Reviewer: Alan
02/25/2012 01:55pm

Great product good quality. Excellent service. Thx.
Reviewer: Mike Slavik
02/21/2012 12:13pm

These straps and ratchets work great, and are very easy to use on my 48ft 3 car hauler. Very secure and stable.
Reviewer: Ron
01/25/2012 07:40am

Super product Super service Thums UP
Reviewer: Eddie's Towing
01/09/2012 10:44am

Great items, super fast shipping, great prices, Wonderful people to work with . I intend to do more business in the future with Auto Haulers Supply. Thanks
Reviewer: Michael Scott
12/11/2011 10:22pm

The order worked out great. Great product easy service and on time. One thing, I wish the tag was in another spot it gets in the way when trying to use them. DOT requires that the tag is attached.
Reviewer: Paul
09/27/2011 09:34am

Great item, easy to order and i was glad we could pick them up at their warehouse in Atlanta. Would recommend the item and company.
Chain Grab Straps
If you're running a chain truck, then you'll want to buy the package deals that give you a ratchet handle with your wheel strap, unless you want to go with a chain tightened version of the strap that features either a heavy duty D ring. Some guys like to use these on their top deck, as they can stand on the lower deck and use their winch bar to tension the straps. Plus, it makes one less thing to lug up onto the top deck. Might be safer for you that way. Probably not. Car hauling isn't exactly a safe occupation.
We also have this sort of wheel strap with a D ring so you can use your S hook or J hook to grab it and then tighten it with your chain ratchets
If you want to see our complete line of wheel straps that can be tensioned using your existing chains and chain ratchets. CLICK HERE.
Strap Truck Wheel Straps
(also known as Strap Trucks... or Boydstun Screw Units)
Speaking of wheel straps that are tensioned by built-in ratchets... that brings me to a relatively recent development in car hauler history-- The Rise of the Strap Trucks (cue Godzilla soundtrack)
Roughly at the same time, Georgia car hauler manufacturer Cottrell and (now out-of-business) Boydstun Metalworks began selling trailers with built-in wheel strap ratchet boxes.
These trucks were designed to fill a growing need created by new car manufacturers who were increasingly mandating the use of "soft tie" wheel strap systems on their vehicles.
Generally speaking, owners of Cottrell strap trailers use 12 foot long straps with rubber tread grabs and swivel J hooks. To see complete line of Cottrell Style Straps click here
12 pack of 12 ft Swivel J Strap for Strap Truck Car Hauler - (new style) YELLOW

SKU#: PCC-SWSTS212-4Sx12

Our Price: $269.00 $231.43
Features heavy duty swivel J style hook sewn to the end of 2 inch by 12 ft 12,000lb material, plus floating "idler" swivel J hook. Designed for car haulers that use built in strap boxes. Also works great as a replacement strap for hand ratchet wheel strap systems!
Ships from OR, CO, IN, GA

12 pack of 12 ft Swivel J Strap for Strap Truck Car Hauler - (new style) black

SKU#: PCC-SWSTS212-4S-BKx12

Our Price: $269.00 $231.43
Features heavy duty swivel J style hook sewn to the end of 2 inch by 12 ft 12,000lb material, plus floating "idler" swivel J hook. Designed for car haulers that use built in strap boxes. Also works great as a replacement strap for hand ratchet wheel strap systems!
Ships from OR, CO, GA

12 ft Swivel J Strap for Strap Truck Car Hauler - (new style) YELLOW

SKU#: PCC-SWSTS212-4S-YEL

Our Price: $20.95 $18.95
Features heavy duty swivel J style hook sewn to the end of 2 inch by 12 ft 12,000lb material, plus floating "idler" swivel J hook. Designed for car haulers that use built in strap boxes. Also works great as a replacement strap for hand ratchet wheel strap systems!
Ships from OR, CO, GA

Big Orange Swivel J Wheel Strap (Box of 15)

SKU#: AH-ORANGE-SJ-12x15

Our Price: $299.95
Box of 15 twelve foot replacement wheel straps with swivel J hooks. 3700 LB WLL. Works great for strap trucks with built-in strap ratchet boxes or for hand ratchet wheel straps.
Ships from PA

12' Replacement Car Hauler Strap. No hooks, Reuse your Swivel-J Hooks

SKU#: PCC-RSBL212-4S

Our Price: $11.59
Replacement 12' wheel strap assembly comes with three tread grabbers. No Hooks, reuse your old Swivel-J bolt on Hooks. Save $$$!!!
Several colors to chose from!
Has 4 sewn stoppers to keep the rubber blocks in place.

Tagged at 3000 LB safe WLL, safety factor of +3:1.
Ships from OR
Boydstun Screw Truck Straps (to see ALL of them, click HERE.)
Strap Truck Replacement Strap with 2 hooks, no bolt loop

SKU#: PCC-C12WH

Our Price: $8.95
2 inch by 10', 12' or 14' replacement strap for car haulers. comes with double J wire hook sewn to end, with one double J wire hook idler. NO BOLT LOOP
Ships from OR

Big 'Un Replacement Car Hauler Wheel Strap 16'+ (No Ratchet Handle) Color Option

SKU#: PCC-RWH2MS216-4S-C

Our Price: $15.95
16 ft strap tie down. Replacement strap, no Ratchet Handle. Saves on shipping cost too! This auto tie-down strap goes over the wheel and utilizes three rubber tread grabs to prevent slippage. Now also with 4 sewn tread grabber stoppers.
Ships from OR
This ends our coverage of wheel straps for open car haulers. If you have an enclosed car hauler, please consult our Compendium of E-Track and E-Track Wheel Strap Systems. Click here for the shortcut.